0

Your cart is currently empty..
CR
BT600FC-YZ1515x Peristaltic Pump
Chonry Peristaltic Pump
Speed range
0.1~600rpm (reversible)
Flow range
0.007~2280ml/min
Pump head
YZ1515x

Control method
Touch scrren + Button

Dispensing peristaltic pump
BT600FC/YZ1515x, Max flow range is
2280ml/min/channel.
Flow speed can be adjusted by touch screen operation
, instead of the traditional way of membrane keypad, which reduces obviously the failure rate, or by automatic control through the external controller interface, with three available modes: 0-5V, 0-10V and 4-20mA. Memory function is also available in the product in case of power off. Besides, switching knobs are designed clearly so that it is easy to operate for customers. Full speed button available for filling in & emptying out. Good capability price rate. Not suitable when used in the open air.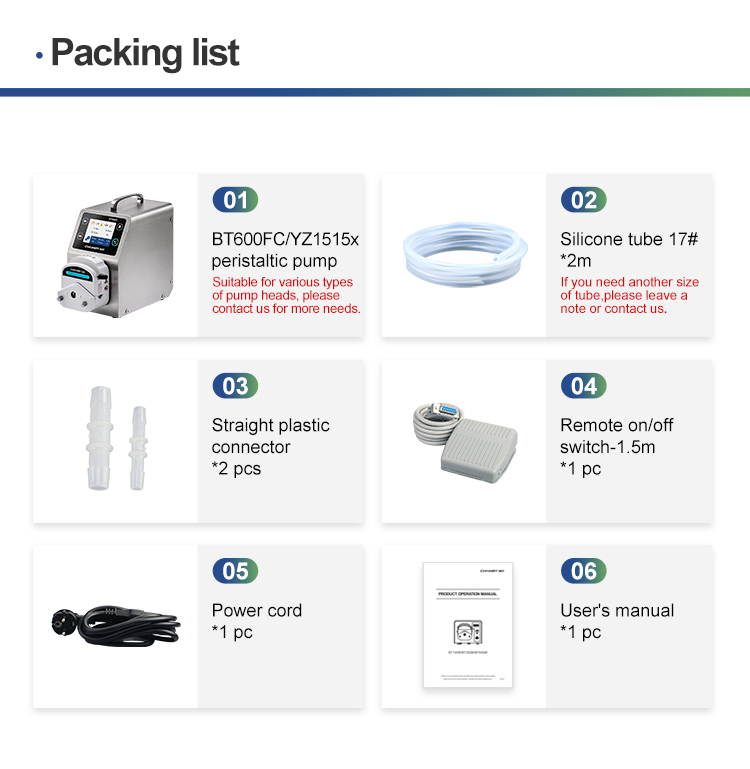 Lab scale Filling & Dispensing Peristaltic Pump is a simple operating dispensing pump that can set the Filling volume/Filling time/ Pause time/ Copy number on the touch screen directly. No need to count the tube flow and time. Like the auto smart camera replaced the traditional camera. Which can improve your work efficiency.
This pump with compact structure and Desktop design that is suitable for manual semi-auto & small batch filling.
Typical Case
Essential oil filling/glue filling/Nail polish filling/Medium filling/Lab scale vials/Vessels filling/E-liquid filling etc.
Model

BT600FC/YZ1515x

Display Mode

Color LCD display




Speed Range

0.1-600 rpm

Control Method

button

speed resolution

0.1 rpm

Motor Type

Stepper motor

Flow range

Max 2280ml/min/channel

External control




Start & stop, direction control, speed control




( Analog control :0-5v, 0-10v, 4-20mA optionl )




RS232 and RS485 Communication interface, support MODUBUS Communication Protocol

Environment Temperature

0-40℃

Relatively Humidity

<80%

Power consumption

<50W

Power supply

AC220V or AC110V
Function & Characteristics
1. With liquid calibration function, ensure high precision of liquid transportation.
2. Use bidirectional high-power motor with large torque. Can be connected to multiple pump heads to meet different flow rates.
3.
Long life digital rotary knob easy to operate high control precision and ensure to transfer the high precision fluid.
4. Full speed button can be used to fill and empty tubing.
5. Memory function is available in case of power outage, it will continue to work once power is restarted.
6. Through the DB15 interface of the driver to achieve remote control: speed control, start and stop control, direction control.
7. RS485 communication interface, support MODBUS communication protocol. And provide customized communication protocols
.
Pump head

Tube

ID(mm)

Wall thickness

Speed

Flow rate

(mm)

(rpm)

(ml/min)

YZ1515x

13#

0.8

1.6

0.1-600

0.007-42

14#

1.6

1.6

0.1-600

0.027-162

19#

2.4

1.6

0.1-600

0.051-306

16#

3.1

1.6

0.1-600

0.082-492

25#

4.8

1.6

0.1-600

0.17-1020

17#

6.4

1.6

0.1-600

0.29-1740

18#

7.9

1.6

0.1-600

0.38-2280



model:

BT600FC/YZ1515x
speed:

600rpm
flow rate:

2280ml/min
head pump :

YZ1515x