0

Your cart is currently empty..
CR
LG350FJ 33l Industrial Peristaltic Pump Operated Knob Large Flow
CHONRY PERISTALTIC PUMP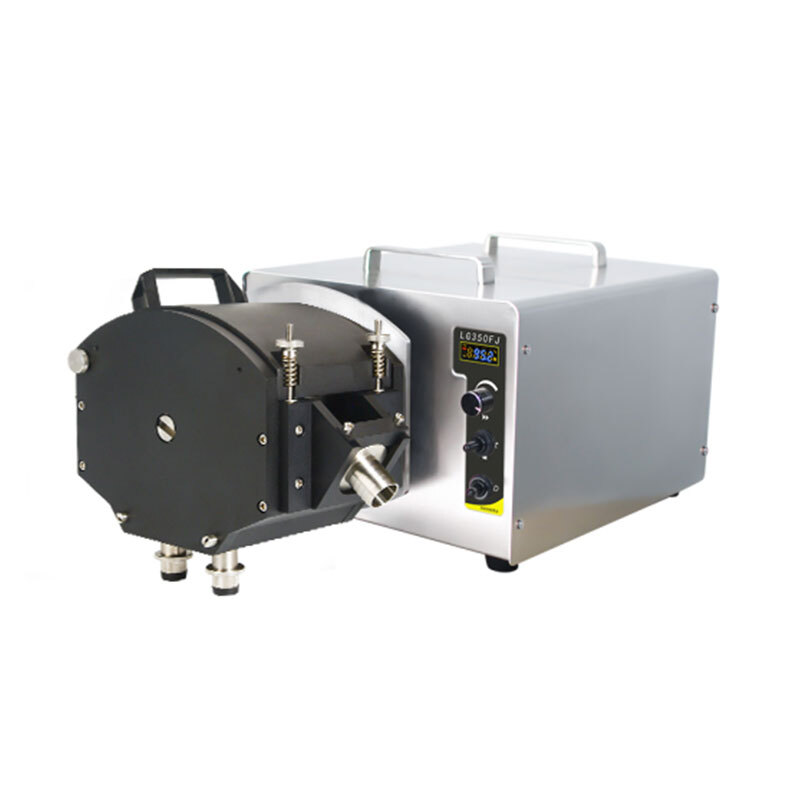 Model: LG350FJ

Pump head: KZ50

Speed range: 0.1-350rpm
Speed resolution: 0.1rpm
Flow rate: Max 33000ml/min/channel
Outlet size: Max25.4mm
Voltage: AC220V or AC110V
Warranty: 1year
Peristaltic pump LG350FJ/KZ50, Max flow range is 33000ml/min/channel. Flow speeds can be adjusted either by hand through switching knobs, instead of the traditional way of membrane keypad, which reduces obviously the failure rate, or by automatic control through the external controller interface, with three available modes: 0-5V, 0-10V and 4-20mA. Memory function is also available in the product in case of power off. Besides, switching knobs are designed clearly so that it is easy to operate for customers. FULL SPEED button available for filling in & emptying out. Good capability price rate. Not suitable when used in the open air.

peristaltic pump fittings
LG350FJ/KZ50 peristaltic pump is a delivery peristaltic pump, mainly used in liquid transmission and other applications that can be used for laboratory liquid transmission , used in a wide range of industries. LG350FJ can replace different peristaltic pump heads, can use KZ50, etc. Hose size, wall thickness, and flow range are different for each pump head, you can choose the pump head according to your needs.
Model

LG350FJ/KZ50

Display Mode

4 - LED

Speed Range

0.1-350 rpm

Control Method

button

speed resolution

0.1 rpm

Motor Type

Stepper motor

Flow range

Max 33000ml/min/channel

External control




Start & stop, direction control, speed control




( Analog control :0-5v, 0-10v, 4-20mA optionl )




RS232 and RS485 Communication interface, support MODUBUS Communication Protocol

Environment Temperature

0-40℃

Relatively Humidity

<80%

Power consumption

<50W

Power supply

AC220V or AC110V
Function & Characteristics
1. With liquid calibration function, ensure high precision of liquid transportation.
2. Use bidirectional high-power motor with large torque. Can be connected to multiple pump heads to meet different flow rates.
3. Long life touch screen, easy to operate, high control precision, ensure the transmission of high-precision fluid.
4. Full speed button can be used to fill and empty tubing.
5. Memory function is available in case of power outage, it will continue to work once power is restarted.
6. Through the DB15 interface of the driver to achieve remote control: speed control, start and stop control, direction control.
7. RS485 communication interface, support MODBUS communication protocol. And provide customized communication protocols.
| | | | | | |
| --- | --- | --- | --- | --- | --- |
| Pump head | Tube | ID(mm) | Wall thickness(mm) | Max Speed(rpm) | Max Flow rate(ml/min) |
| KZ50 | 92# | 25.4 | 4.8 | 350 | 33000 |
Baoding chuangrui precision pump Co., Ltd Started production of the peristaltic pump from 2006 .We are a innovative company focus on research and development, production and marketing of peristaltic pump With 10 years professional experience of peristaltic pump/peristaltic hose pump/lab peristaltic pump/industrial peristaltic pump/peritaltic dosing pumpemical dosing pump/peristaltic filling pump/dispensing peristaltic pump/OEM peristlatic pump/ liquid transfer pump etc. . Now we independent research and development of more than 30 series, over 200 kinds of products. We not only produce the standard peristaltic pump, filling pump & system , but also focus on the ideal OEM design and customization. According to the actual needs of customers to produce the ideal OEM pump .Widely used in various industries of pharmaceutical industry, fine chemical industry, environmental protection, biochemical industry, laboratory & research application etc.

We are confident that we can offer the top quality and service for our customers. And we are trying our best to be the top one in our peristaltic pump field.Our professional team can insure fluent communication, as well as perfect after-sale service Chuang Rui make sure that our factory can supply peristaltic pump of best price, high quality, so you will be full of confidence for your market expansion.
Drive Model:

LG350FJ
Max Flow:

33000ml/min
Packing List:

Pump
Pump head:

KZ50
Speed range:

0.1-3500rpm
Flow rate:

Max 33000ml/min/channel
Outlet size:

Max25.4mm
Warranty:

1year